Stay & Play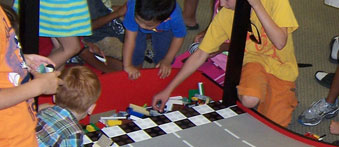 ...is room full of LEGO bricks where kids and parents together can exert their creative energies. We understand the difficulty in enjoying all the LEGO models without touching. So Stay & Play allows you to dig in :)
But the bricks stay with us, so they can be enjoyed at the next BrickFair.
Hands-On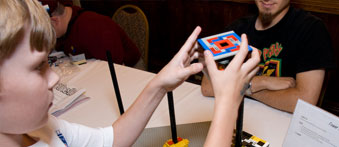 A few models are interactive. They are clearly marked, and the owner is usually nearby to assist. In fact, they usually enjoy showing off.
Be gentle and enjoy!
Win Free LEGO Pieces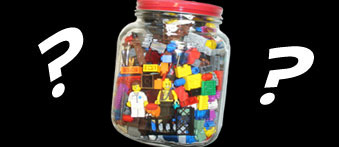 Guess the number of LEGO elements in the jar... and win it.
Four jars full of LEGO parts are given away during BrickFair weekend, at 1:00pm and 3:00pm each day.
Closest guess wins. In case of tie, the guess that didn't go over wins. If still tied, a coin is flipped. Presence not necessary to win; we will ship prizes to winners.
Win Free LEGO Sets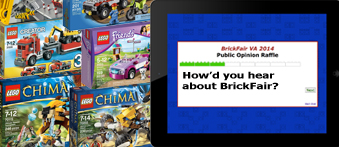 Answer a quick Public Opinion Survey on the iPad, and you're automatically entered into the drawing for some great LEGO prizes!
Personal info used solely to notify winners. See exact prizes on display at the raffle table. Winners drawn randomly from all entrants and prizes mailed a few days after the show.