Boat Race
Friday 9:00am
45mins
hosted by
VACANT
All ages.
Open seating.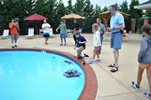 Build a boat (using only LEGO parts, of course) and race against other boats for speed in the hotel swimming pool. Use Technic motors (or MINDSTORMS if you dare). Race for first! Race for fun! A Technic set awaits the winner.
All boats must be self-propelled and move without external assistance, use of tether lines, etc., although remote controls are allowed. Unless otherwise specified here in the rules, the race course is in a straight line against the clock.
Some races (notably BF/VA) take place outdoors and do not let you walk closely to your boat so take that into consideration in your design (e.g., when using IR receivers). For this reason, sBrick is permitted to drive your boat.
The race is scheduled for 10:00am sharp on Saturday, at the moment the pool opens. This should give participants enough time to compete in the race before the first hotel swimmers arrive, and get back to the Expo before the first wave of public visitors hits.