Charity Auction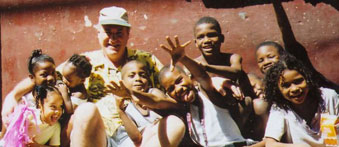 Each year BrickFair Virginia attendees partake in our annual charity fundraiser supporting the SladeChild Foundation, who provides food, shelter, medicine, clothing, and education to destitute children. SladeChild is a small Maryland-based charity operating on ~$100,000 per year, of which we raise ~$13,000. We make a difference!
In 2014 founder David Slade lost his battle with cancer, leaving his wife Karen and a handful of friends to continue their efforts. These trustees attend BF/VA to help oversee our auctions.
You Want To Donate?
Give back to the community and entertain your fellow AFOLs by donating to our charity. Donations can be anything LEGO-related such as rare, discontinued or even current LEGO sets, memorabilia, custom figs, promotional items, and or course MOCs.
Registered exhibitors can bring donations to the event (by noon Friday, please), or ship to the BrickFair mailing address.
Alternatively, you can ship your donation to our dedicated volunteers at:
BrickFair Charity Auction
c/o Jeffrey Fishman
7724 Virginia Lane
Falls Church, VA 22043
Shipped donations must arrive by Tuesday, Aug 1st 2023 for us to pack them on the truck. Late arrivals will be saved (and probably appreciate in value!) for the following year's fundraiser.
You Want To Bid?
Well come on in! Attend the auctions Friday evening at BF/VA and bid away! If you are lucky enough to win an item, we'll need your Bidder # (assigned automatically when you register to attend).
See the schedule and join us at the auction!
Silent Auction
Silent auction items will be on display - with bidding sheets - for several hours. Wander over sometime Friday afternoon and see what's available! Win an awesome LEGO item and help some children while competing for fun :)
The End
Winners pay for their prizes. Ideally everyone goes home with a unique, awesome LEGO item. And hopefully we break our fundraising record to help SladeChild!
See also: the public charity page.