Participate!
Micropolis
Developed by TWINLUG, Micropolis is a very easy-to-join collaborative that builds great cityscapes with relatively few pieces.
Examples
This flickr group is dedicated to Micropolis, with hundreds of inspiring photos.
The Standard
16 x 16 studs = 1/4 of a city block (one module),
4 modules = 1 (small) city block,
Each 4-module block is ringed with a two stud road,
Blocks connected together create a 4 stud wide road,
Cars are 2 studs long; buses and trucks are 4 studs long,
1 brick = 9 feet tall,
1 plate = 3 feet tall,
1 stud = 7.5 feet wide.
These are for reference only. The blocks are smaller than the blocks in a real city. Scale your buildings accordingly.
Base Module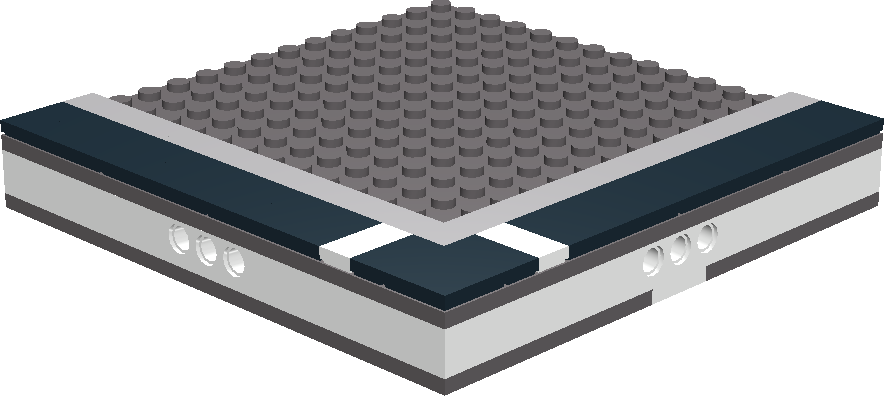 A sandwich of plates and bricks create the base. 1x2 Technic bricks are in the center on each side.
Two rows of black tiles make roads (along 2 edges). Crosswalks are a 1x2 white tile at the 4th stud position from each corner. Sidewalks parallel the roads. Light bley tiles make sidewalks, although alternate colors can be used to tie the sidewalk to the building.
The opposite two sides are optional alleys (one row of dark bley tiles). Dark bley tiles also make parking lots.
Scale Suggestions
A small townhouse might be only 3 or 4 bricks tall. A high-rise skyscraper might be 50 or 60 bricks tall. A basic car is a 1x2 jumper with a 1x1 tile on top, trucks and buses are 3 to 5 studs long and 3 or 4 plates high. Modules (city blocks) can be combined for larger buildings like stadiums and shopping malls.
To Participate
Build your module(s). Register your MOCs (specify the Micropolis collaborative). Show up at the convention. Introduce yourself and help layout the city - it's kind of a free-for-all with minimal planning (taller buildings go towards the back).
Really, it's that simple. The group at BrickFair is very laid back and easy-going, no egos, everyone gets to play.