Participate!
Great Ball Contraption
GBC is a Mindstorms/Technic creation (not competition) in which people of all building levels can participate. Build one module, or build many. All modules are combined on-site to form a large Rube Goldberg system. The goal is to pass LEGO soccer balls and basketballs from one module to the next. Each module can be as simple, or as complex as a builder wishes.
Participating
All exhibitors are invited to participate! Registering your module is encouraged so that our GBC Theme Leader knows to expect you. There is no limit to the number of modules you may bring, but register to help us plan space.
The Standard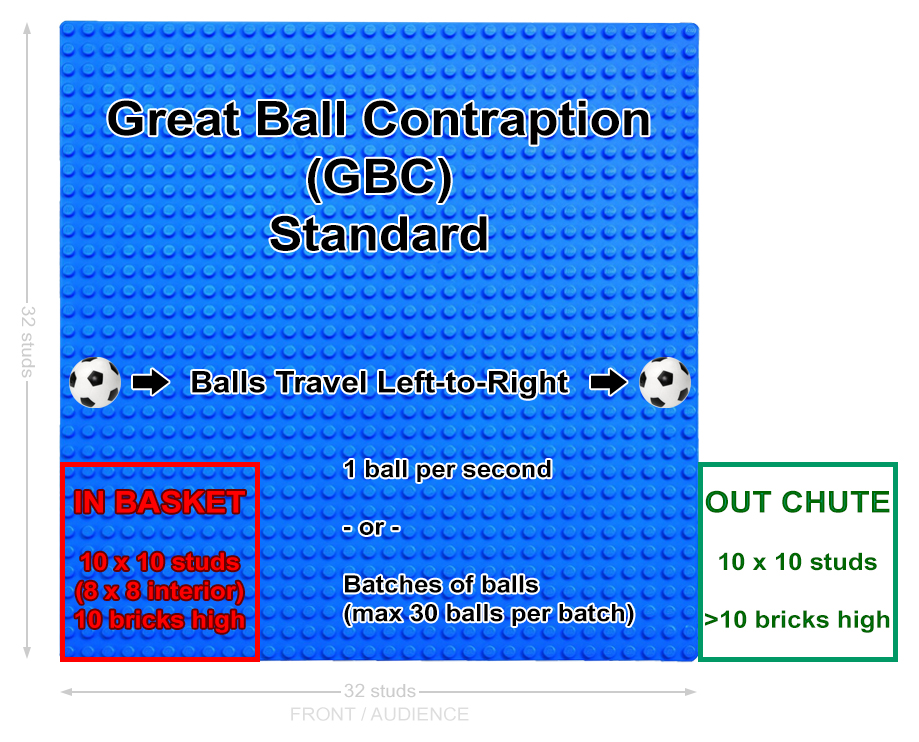 In-Basket should be 10x10 studs (outside dimension) with an 8x8 opening, and should be 10 bricks tall.
In-Basket is on the left. Balls travel to the right.
In-Basket and Out Chute should be aligned.
Front of the In-Basket should be no more than 32 studs from the rear of module.
There is no limit to the width.
Modules should operate at a rate of 1 ball per second.
Balls can be passed continuously, or in a batch. A batch should not exceed 30 balls.
Building Tips
Make your first module self-serving. Incorporate hinges to allow your module to loop back around, feeding into itself. This makes building and testing much more fun.
Start your project on a level table! Use a bull's eye level to prepare your construction space. Tables at the event may not be perfectly level, but it would be worse to build on a table leaning left then display on a table leaning right. At least start from a clean slate.
GBC is typically set up on 30"-deep tables. Modules must not be deeper than 30". But there's little reason to go deeper than one baseplate.
Most modules do not work 100%. Don't worry about the occasional flopped ball. Still not happy with your almost-working module? Bring it to the show and let other GBC builders have a look at it.
All GBC modules will wear down over time. LEGO parts are not meant to be run as long and hard as GBC displays. Module maintenence is neccessary during and after most shows.
You have unlimited width. Your module's width depends only on its function and aesthetics.
Download
Other Info
See the original standard.
See plenty of videos online for examples and ideas.
We have balls; don't bring yours.
Your relationship with GBC Theme Leader(s) depends upon: 1) Your modules' success rate, and 2) The amount of time you spend in the GBC island (during public hours) helping wrangle rogue balls - from all modules.